Case Study: How we Removed Over 250 Bad Reviews for Right Now Heating & Air
Right Now Heating and Air (RNHA) came to Dandy to help remove negative reviews, capture new positive reviews and manage all of their reviews in one dashboard. In business since 2001, RNHA has three locations and offers plumbing and HVAC services in Idaho and surrounding regions. Home services is a tough market and with local competitors RNHA needed a way to stand out from their competition. Being a family owned business, they value relationships with customers and want to make a great impression.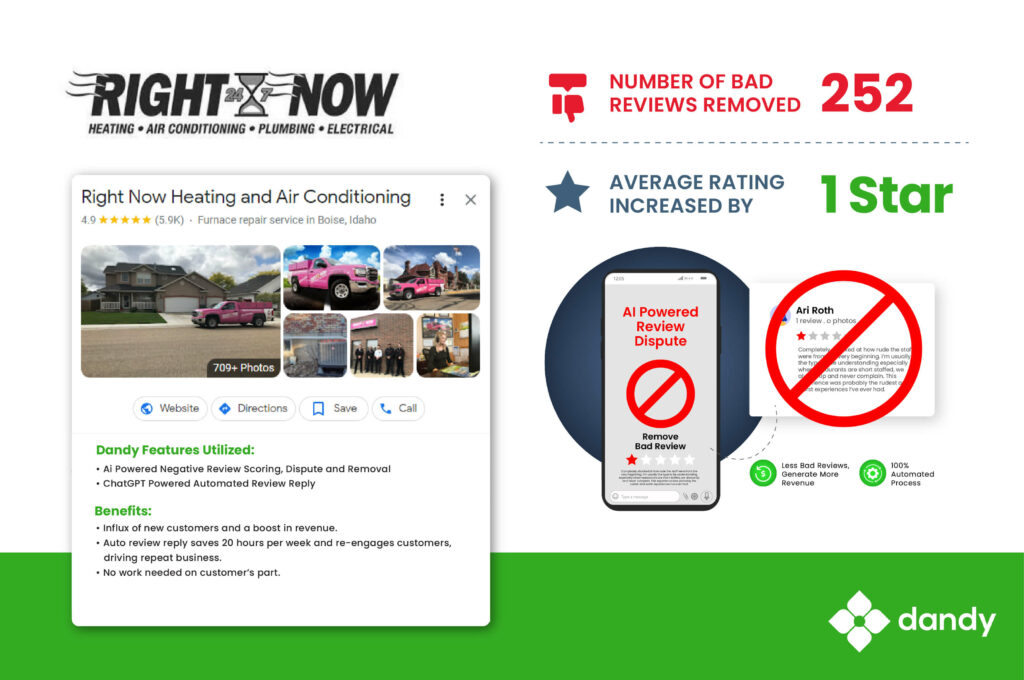 Want to see what Dandy can do for your business?
View More Case Studies and Testimonials from Our Customers:
RNHA was interested in managing and monitoring their current online reputation and capturing more online reviews to help them grow their business. They also wanted help removing bad reviews that they felt were defamatory and didn't tell the actual customer experience that RNHA is known for.
Before working with Dandy, the management of online reviews was more of a manual task, going in and out of several review sites to make sure they were operational and business information was up to date. Removing defamatory reviews was daunting and time-consuming. RNHA wanted to focus on providing exceptional customer experiences, so they were looking to Dandy to automate reputation management and monitoring and automate the challenge process to have reviews removed from sites like Google, Facebook. In addition to removing bad reviews, they wanted to capture new reviews from their customers. This was also a very manual process, and while they had a great approach to capture recent reviews, they were also looking at ways to improve this process.
Dandy and RNHA teamed up to bring reputation management to the forefront. RNHA signed on for several solutions; Review Removal, Reputation Management, and Review Generation.
The goal was to remove bad reviews and generate more customer reviews to showcase the authentic customer experience and keep an eye on all the reviews they collected across several different review sites. For RNHA, time is money, and they needed Reviewvio to automate some of these processes so they could focus on growing the business. Dandy was able to remove 60 negative reviews from RNHA's Google My Business Page within 90 days!!!
Want to See What Dandy Can do for your business?
Negative Reviews Removed!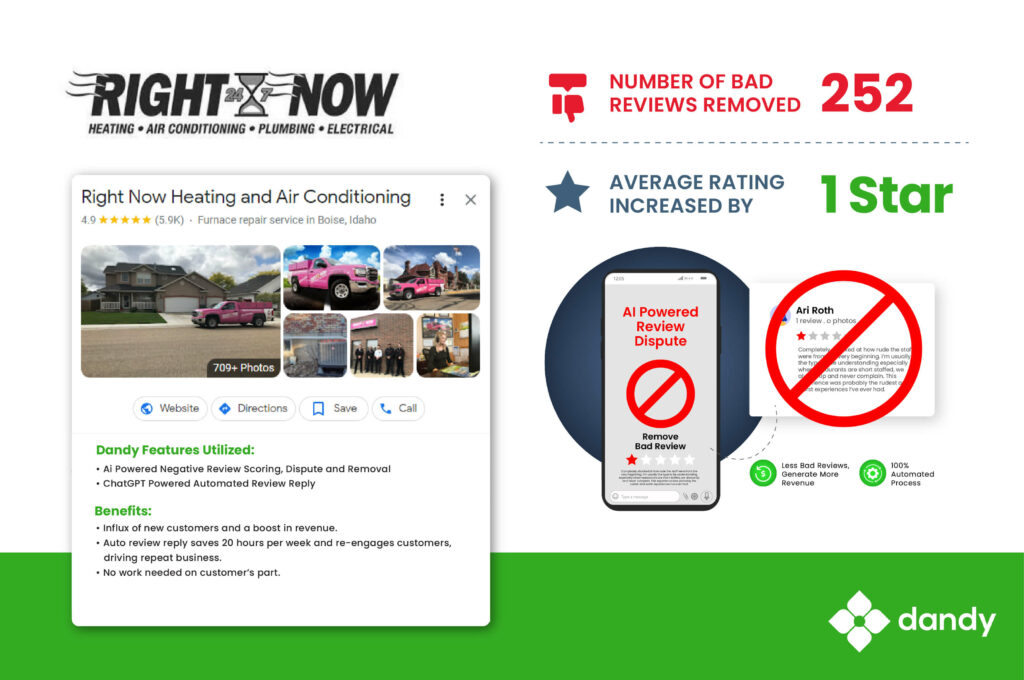 Within a couple of months, RNHA realized the positive impact of removing over 60 negative reviews and generating numerous positive reviews with the Dandy platform. Managing all of their reviews from one easy to use dashboard saves RNHA staff 10 hours per week! RNHA was able to jump one entire average star rating (from 3.5 to 4.5) and has noticed a substantial increase in schedule requests. In summary:
Removed 60 + negative reviews in first 90 days
Generated hundreds of 5 star reviews
Saving 10 hours per week by managing all reviews in one dashboard
Moved up one average star rating – expect 10% annual revenue increase
Want to see what Dandy can do for your business?